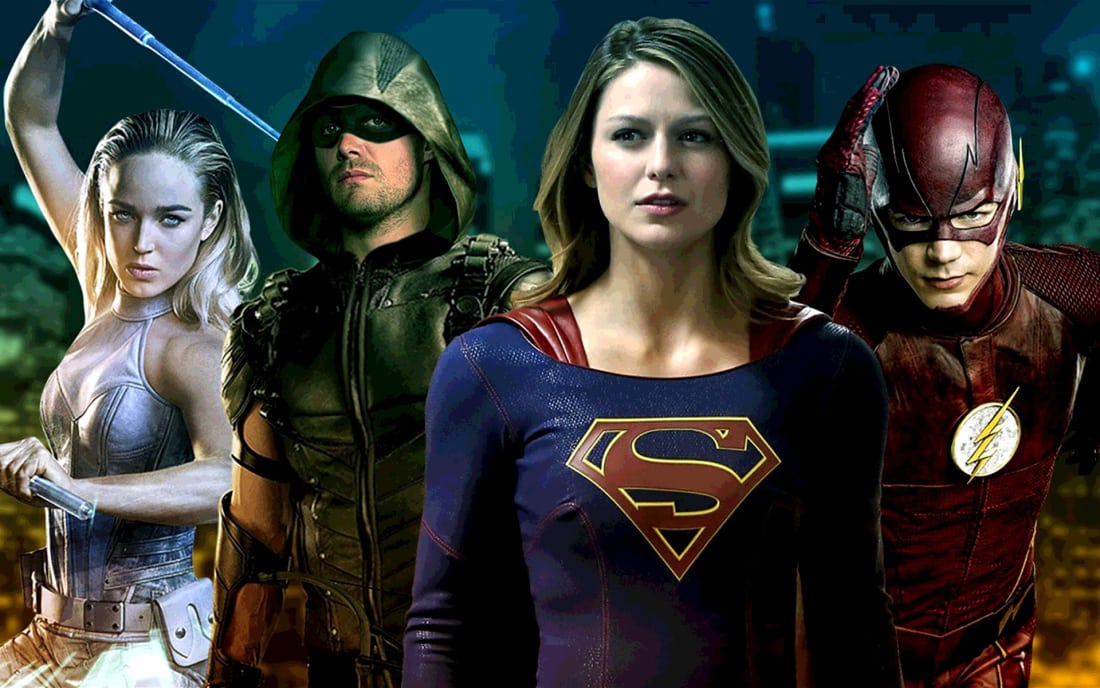 So, I love the CW Superhero shows. A lot. For this reason, I wanted to review/comment on them as they come out. I'm a few episodes behind, so this is my catch up post. In the future, I'm going to write each segment after I've seen the episode so that it's fresh in my mind, but I'll post them after Arrow airs. Expect Spoilers!
Second disclaimer: I love these shows. They can't do anything wrong, so my reviews are going to be heavily biased. They will be less reviews and more musings about each episode.
Supergirl, 3×01
Kick off the season with Smallville's Lois Lane kicking down doors as the new version of Kara's mother. That's pretty badass. I liked the way they had her dealing with Mon-El's leaving, but I feel like a lot of what they dealt with (Alien vs. Human) has kind of already been done. I mean, are they really going to show try to convince us that Kara doesn't care about Alex and Maggie's marriage stuff? I'm happy she came around by the end.
Random thoughts:
Loved the lifting the Sub thing she did. Really liked Lena Luthor this episode.
They did a really good job getting me interested in the Rubie stuff. I really want to know what's going on there. I know a little bit from online, but I don't know how they plan on getting there, and that has me excited.
Lena Luthor buying CatCo came across as very Michael Rosenbaum in Smallville. Loveable Lex could always be counted on to solve everyone's problems by spending a shit ton of money. "You want the Talon, here, I'll help you buy it." "Hit Clark with my car? I'll buy him a truck." They've decided to follow Smallville's narrative a little bit here, and I think that might be a good thing when you're dealing with a new character that Kara is supposed to end up hating (I assume).
3×02
This episode should have been the first episode. I liked the character development that we got with Kara and her fears of the pod and then the awesome explanation for why she's still upset. Also, Alex and Maggie never had the kids talk. Uh Oh.
Random thoughts:
I didn't like Lena in this episode so much.
I don't get her animosity with Jimmy Olsen at all.
Oh, and the ending with J'onn and M'gann was a good ending. Loved that.
The Flash, 4×01
I loved this episode. It was, obviously, a perfect mirror of the original first episode of the Flash. I wasn't a fan of how Wally and Vibe are supposedly not as solid as Barry at being superheroes. I get it as a plot device, but Wally is as fast as Barry ever was, and Cisco is pretty kickass. Whatever, it was a great episode. Another flaw I saw, that doesn't get dealt with properly until the second episode in my opinon, was Iris not wanting Barry back. It made sense once episode 2 aired. Loved how they dealt with bringing Barry's mind back. Also, how friggen kickass is it that they couldn't stop Barry from getting out of the cell? On another note, the is she, isn't she with Caitlyn is getting old. Just make a decision and let us know if she's an ice queen or not.
Random thoughts:
This house is bitchin'. That was great.
I also really missed Harrison Wells in this episode. Which version of him? All of them, really.
The Thinker was a little cartoony, but it was ok.
This is my favorite of the superhero shows. Very happy this is back.
I also liked that we're back to comic book Barry who is mentally stable after the death of his family. It's fun again.
4×02
Everything about this episode was perfect. I loved the crossover stuff with the mention of Oliver. This episode was good fun. Kilg%re was a great badguy and we got to see Forensic Barry and Tech Consultant Cisco again. Captain Singh was back, too, which is always a plus. I liked having Caitlyn back, and loved the Cisco/Gypsy stuff that's building up to the introduction of her father, Breacher.
Random thoughts:
This was a good way to explain the new team dynamic.
I liked the therapy scenes a lot.
This was the first episode where I started wondering what happened to Iris' writing career…
Did anyone else notice that they started repairing the Star Labs burn marks on the outside? It's only been four years, way to get on that guys…
Legends of Tomorrow, 3×01
Wow, they really shoehorned this plot together… I feel like they wanted season 2's finale to lead to a very specific plot of repairing the timeline and then decided that was a lot of work and screw it, let's just do this completely other thing that undoes all that we set up with that huge cliffhanger at the end of season 2. This episode made me very unhappy with Rip, too. I am now deciding that this Rip is still the altered one from Season 2. Geeze, it's obvious that Victor Garber is on his way out. Wonder how they'll make Firestorm work… How the hell are they going to justify to me, their audience that loves them no matter what, that Rip, who basically wants to fuck Gideon, turned Gideon off for 5 years?
Things that I loved:
Mick has a lot of STD's
Amaya's story tying into the rest of the universe.
Using the old missions as training scenarios.
I went to IMDB and started reading quotes, and quickly realized that I loved this episode. I take back everything.
"Sometimes we screw things up for the better."
Love everything Mick. He's always so great. Really want to see more of him and "Haircut." They're great together.
While I feel like Sara would have gone off and joined back up with Oliver and company instead of working in Housewares ala Ash J. Williams, I liked it anyway.
3×02
This episode was more fun than the season's first episode. We got to see some of my favorite things in the form of Ray building tech and Nick bro-ing it up. This episode was worth it for the big showdown between Sara and Agent Sharpe. Also, Gary added some great comedic powers to the episode.
Random thoughts:
Amaya is a literal beast.
Shrink rays show that Ray is still the awesome tech monster he is and was totally wasted on that Tinder knockoff.
Victor Garber as a clown is great!
Even better was Victor Garber hating on the Titanic. Classic, love it.
Damn…Billy Zane got old…and is still weird.
Arrow, 6×01
This episode really glossed over what would have probably been a great episode in everyone leaving or surviving the island. The plot points they made me care about involved whatever's going on with John, Felicity's weird standoff style interest in Oliver's kid, and Quinton's alcoholism and problems with his doppeldaughter. I feel like we're missing a big opportunity to deal with Doppeldaughter's own version of alcoholism. Our Laurel dealt with it, and I can't imagine that this Laurel, without the same support structure, doesn't still deal with it. The only thing I wasn't alright with this episode was Oliver's kid. Everything dealing with that seemed weird. Also, does the nanny know Oliver is the Green Arrow? Also, that sucks about Speedy.
Random Thoughts:
Liked Wild Dog's new outfit.
Liked Mr. Terrific's T-Spheres getting more action.
Liked Green Arrow relying on his team to stop the missiles.
The arrows all seemed to have weird flights in this episode. Go through and watch, starting with the first bad guy they catch who launches those missiles. I've shot bow, a lot, arrows don't fly like that… Whatever. Still fun.
Oh, hey, everybody…Look…Green Arrow and Oliver…same person…again…
6×02
Diggle, what are you doing? Seriously, we're six years in and you should know better than to keep secrets. Felicity's voice seemed really off this episode, I think she was either sick or hungover. I think this episode is implying that KGBeast is gonna keep coming back, and I liked that. He's a believable villain with a backstory that we don't have to guess about. I don't like that ARGUS hasn't called off the FBI yet. Although, I like the idea of Arrow fighting to keep his identity secret.
Random thoughts:
Liked the name drop. Very awesome. When I first heard about it, I thought we might see Lois Lane in the crowd or something, but I'm ok with this name drop instead.
Really didn't like the passing of the torch at the end. I'm sure it's only part-time, but that makes me like it less.